Retec 2000 CP
Bioresonance |
Software-controlled device for universal and versatile bioresonance – including 340 automatic programmes. The Retec 2000 CP is operated in conjunction with an externally connected PC (notebook).
The user interface is designed for intuitive use and supports the treatment process with sorted lists that can be called up specifically according to symptom patterns. A very fast familiarisation is achieved with the help of a visually displayed electrode configuration and assembly of the output beaker.
You can run up to five programmes automatically or adjust all necessary parameters manually and save them for repeated use. The option of electronic potentiation is also available.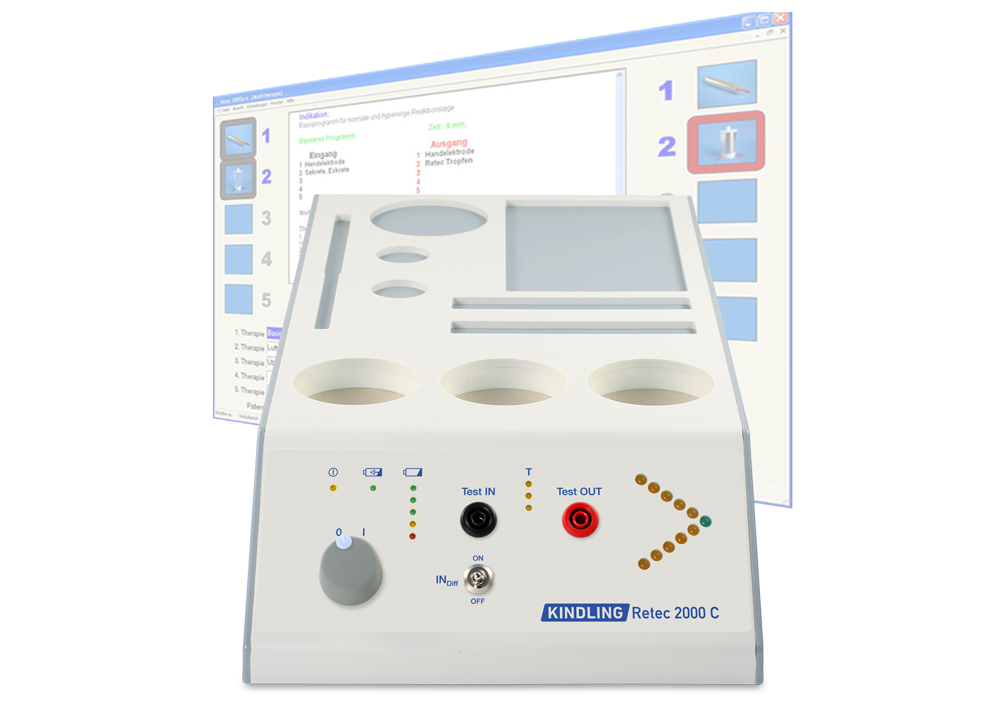 ---
Multitherapy
Multitherapy allows an automatic sequence of programmes to be created that can also be saved for any subsequent sessions. Up to five programmes can be selected.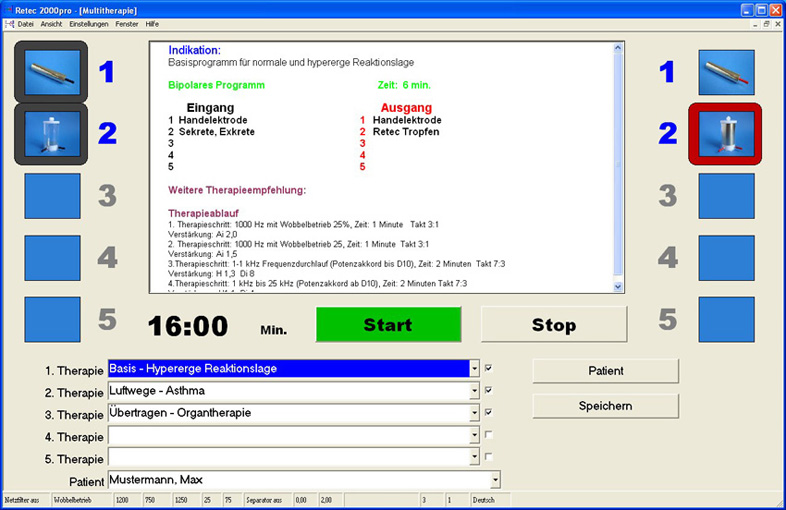 ---
Manual application
Programmes can be changed or created individually. Changes or settings can be achieved by clicking on the switch symbols or their marking field. If a parameter value is assigned to the switch symbol (for example, amplifier setting), an additional window opens in which a value is entered. The values can also be increased (arrow up) or decreased (arrow down) by clicking on the arrows.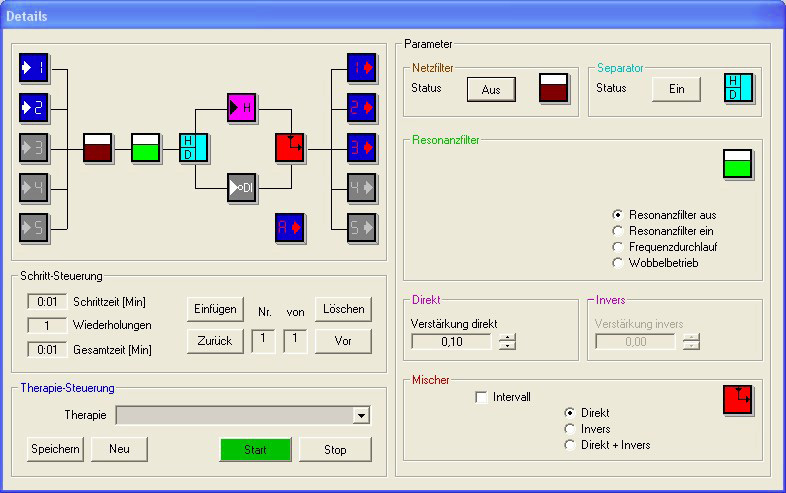 ---
Potentiation
The electronic potentiation of substances is done according to the Dr. Würthle method. By using harmonic and disharmonic information, potentiation up to D100 is possible.

---
Kindling Retec 2000 CP at a glance:
Bipolar bioresonance device
Integrated input and output panels
External beaker expansion through two inputs and outputs each
Differential method, no environmental influences during transmissions
Easy handling of the Retec hardware and clear menu navigation of the software
Can be delegated
Pictorial accessory suggestions in the choice of therapy
Simple update procedure via self-installing CD-ROM
340 fixed programmes sorted by indications
Clear operating displays
Accessory tray on the top of the unit
Structurally coordinated housing concept for the Kindling EAV Combi-2
Frequency range up to 1,000,000 Hz
Filter range up to 100,000 Hz
Automatic belt feed and wobble operation
Individually adjustable amplification up to 100-fold or attenuation up to 0.01
Mode: Separator circuit (H, DI), direct and inverse (A, AI)
Test function of the output amplifier
Display of the remaining session duration
Mains operation via a medical power pack; optional battery operation possible
High interference immunity due to external PC
Compatible with all commercially available Windows PCs (Windows XP, Windows Vista, Windows 7, Windows 8, Windows 10) with CD-ROM drive and a free USB port
---
Applications:
Information transmission
Medicine transfer
Channelling through inverse transfer
Beaker configuration: Input – for example, nosodes, viruses, bacteria, secretions, excretions, parasites, heavy metals, virtual database, etc.; Output - for example, human, medium, globules, etc.
Multi-application
Potentiation
Reading of vibration patterns into Homopath® software
---
Special supplementary options:
Expandable with all Kindling-EAV- devices – especially with the EAV-Combi-2 – due to coordinated housing concept
Can be combined with the virtual medicine databases of the Homopath® software programme
---
What the Akuport MR2 offers:
• 2 Hand electrodes, brass
• 2 Foot electrodes, brass
• 2 Flexible electrodes
• 1 Magnetic field electrode
• 1 Magnetic field electrode, light
• 1 individualisation electrode/ointment electrode
• 1 Magnetic field mat
• 2 Pairs of retec wires, 2 m
• Software Retec 2000pro, cd-rom
• USB connection wire
• Medical power supply
Dimensions: 20 x 8 x 38 cm (W x H xD)
Weight: approx. 1,700 g