Akuport M1+
Measuring | Testing |
The ideal entry-level device for the modern EAV bioelectrical measuring methods in a compact modular system.
The Kindling Akuport M1+ is a practical EAV measuring and testing device designed according to the latest findings.
It is a cost-effective option for both the beginner and the experienced therapist. The Akuport M1+ can be easily expanded to form a complete unit via a modular, plug-in system (plug & play) with the EAV-stimulation device (MT) and/or the Bioresonance device (MR2).
Applications:
Measurements according to the standards of EAV (electroacupuncture according to Dr. Voll)
Means testing: Testing of products, incompatibilities, site loads, materials, etc.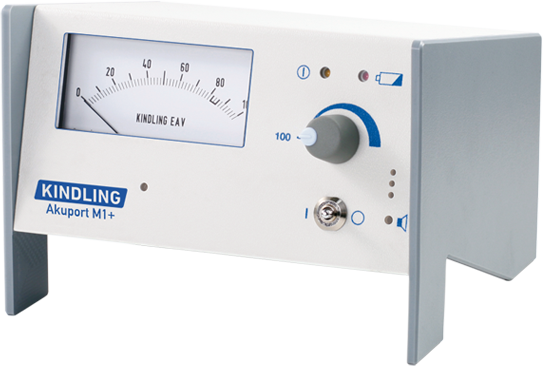 ---
Akuport M1+ Features:
EAV measuring systems according to official standards of the IMGEAV (International Medical Society for Electroacupuncture according to Voll)
Clear indicator instrument
Ergonomically shaped point probe with spring-loaded, pressure-compensated and replaceable measuring tip
Optical point search device in the point probe
Acoustic measurement display
Spread of the scale (TP controller)
Battery operation
Built-in module interface for easy expansion with other Akuport devices in plug & play system
PC connection for working with the Homopath software
---
Special supplementary options:
The Akuport M1+ can be operated as a stand-alone unit and expanded at any time as a basic unit with various modules
Expandable with the Akuport MT stimulation module and/or the Akuport MR2 bioresonance module in the simple plug & play system
Can be combined with the Homopath® EAV software for measurement data acquisition with virtual resonance test
Measuring section switch
Available as BFD version with silver electrodes and silver measuring tip
Extensive special accessories
---
What the Akuport M1+ offers:
2 Hand electrodes, brass
Measuring wires for hand electrodes (red )
Stylus
4-slice tip
Honeycomb Ø 5 cm
Wire for honeycomb
Battery (9-V-Block)
Operationa manual
With these standard accessories, the unit is ready for immediate use.
Dimensions: 16 x 11 x 15 cm (W x H xD)
Weight: approx. 400 g
---
Possible combinations