Vistron
Measuring| Testing | Data Transfer |
A perfect combination of measuring, testing, stimulating and data transfer – through novel technology and a precise luminous band display.
The Vistron combines the measuring and stimulation component for biosymmetrical function testing of electroacupuncture according to Dr. Voll in a new, modern, flat housing design.
Among other things, the microprocessor-controlled light bar, which displays not only the measured value but also the measured indicator drop without inertia, is innovative.
The values can be optimally viewed and read through the folding display. Membrane keypads allow for user-friendly operation.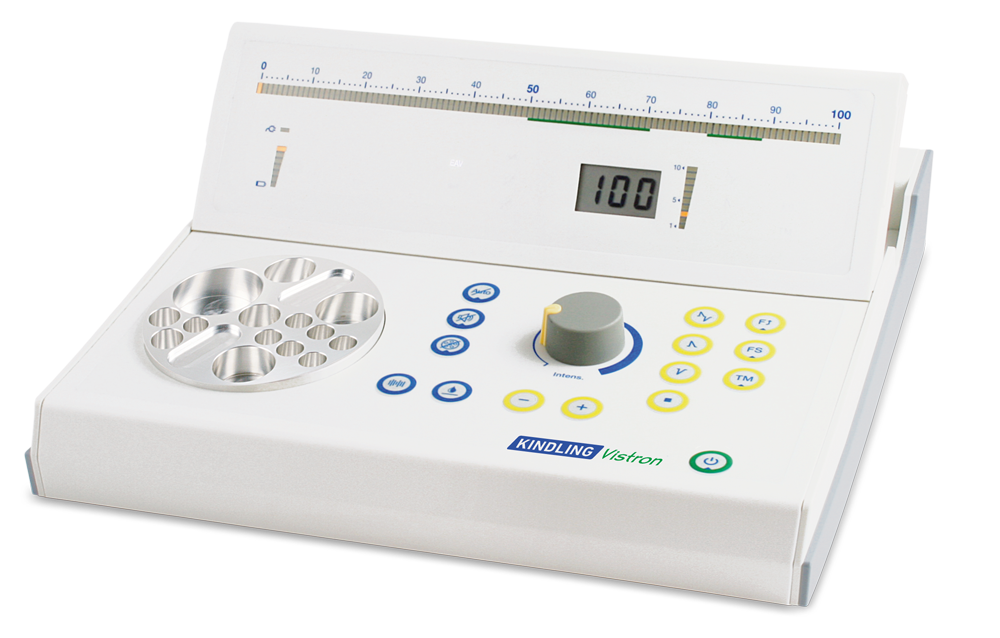 Power is supplied via a high-quality medical power pack, approved according to EN 60601-1, or optionally a 12 V rechargeable battery, which is very easy to use.
---
Applications
Measurements according to the standards of EAV (electroacupuncture according to Dr. Voll)
Means testing: Testing of products, incompatibilities, site loads, materials, etc.
Direct information transmission | Input: for example, nosodes, homeopathically prepared substances, information from the virtual database (Homopath® software), etc. Output: Medium, globules, etc. or test person
Dental focus or dental irritation test
Stimulation with tilt vibration (toning and sedation) via acupuncture points: Fixed frequency (0.1–19.9 Hz or 10–199 Hz), frequency range (1.0–10.0 Hz or 10–100 Hz)
---
Vistron features:
In addition to the proven features in measurement and stimulation applications, you will find novel EAV functions that simplify processes in everyday practice.
EAV measuring system according to official standards of the IMGEAV (International Medical Society for Electroacupuncture according to Voll)
Ergonomically shaped point probe with fixed measuring tip
"OPTO-Point" optical point search device with individual skin moisture adjustment
Stationary operation with medical power pack – battery replacement no longer necessary
Optionally available with rechargeable battery for portable
Maintenance-free light bar display
Automatic measured value transfer or manual point measurement selectable
Saves the current measurement display until the next measurement
Measurement tone can be switched off and the volume can be adjusted
Integrated, removable, large test honeycomb, can also be switched off via button
Dental electrode attachable to the measuring stylus for dental focus testing
Tilt vibration therapy with simultaneous measurement display (T+M)
Expanded frequency spectrum up to max. 199 Hz
Frequency range 0–10 Hz and 10–100 Hz
Can also be used for needle stimulation and ear acupuncture
Retec transfer unit for overshooting substances on carriers
PC connection for working with the Homopath® software

---
Special supplementary options: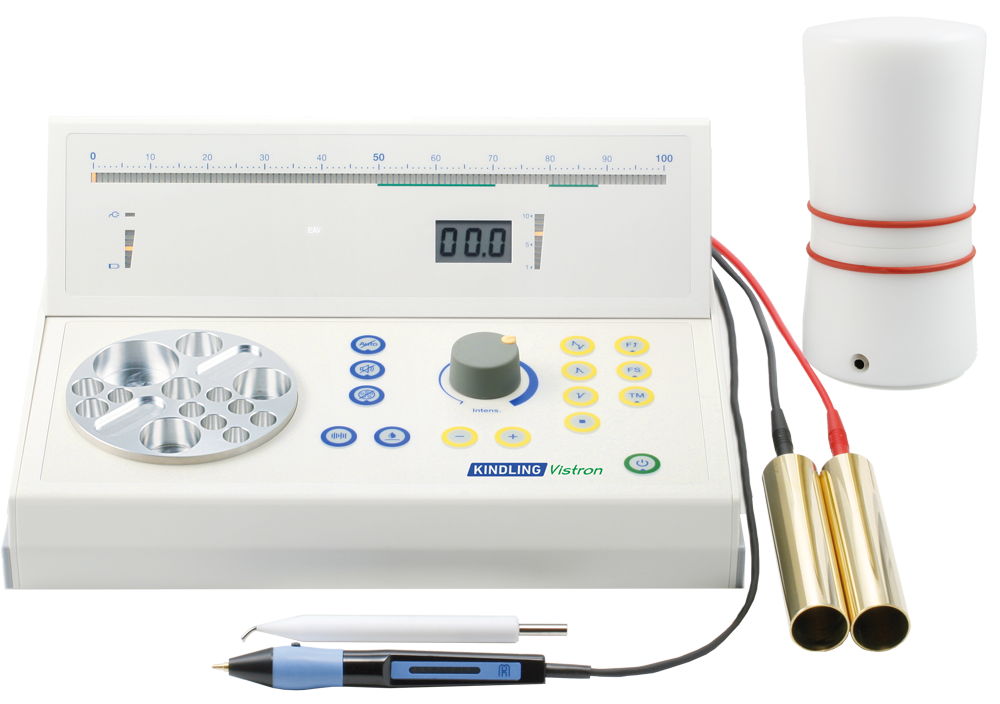 ---
What the Vistron offers:
2 hand electrods, brass with measuring wire, 2 m
stylus with fixed 4-slot measuring tip
Tooth test tip
Retec output beaker
Retec line 0,5 m
Universalwabe, removable
power supply
operating instructions
With these standard accessories, the unit is ready for immediate use.
Dimensions: 31 x 5.5 (with display folded out, 11) x 28 cm
Weight: approx. 2,200 g
---
Possible combinations