Combi-2
Measuring | Testing | Stimulating |
The versatility for EAV in one device – the next level for demanding users. The Combi-2 is characterised by its flexibility and reliable performance, which are indispensable for modern EAV.
The various device features offer the user the basis for a mature bioenergetic concept in complementary medicine. The Combi-2 combines modern metrological requirements for safe EAV measurement with various stimulation applications using low-frequency current pulses.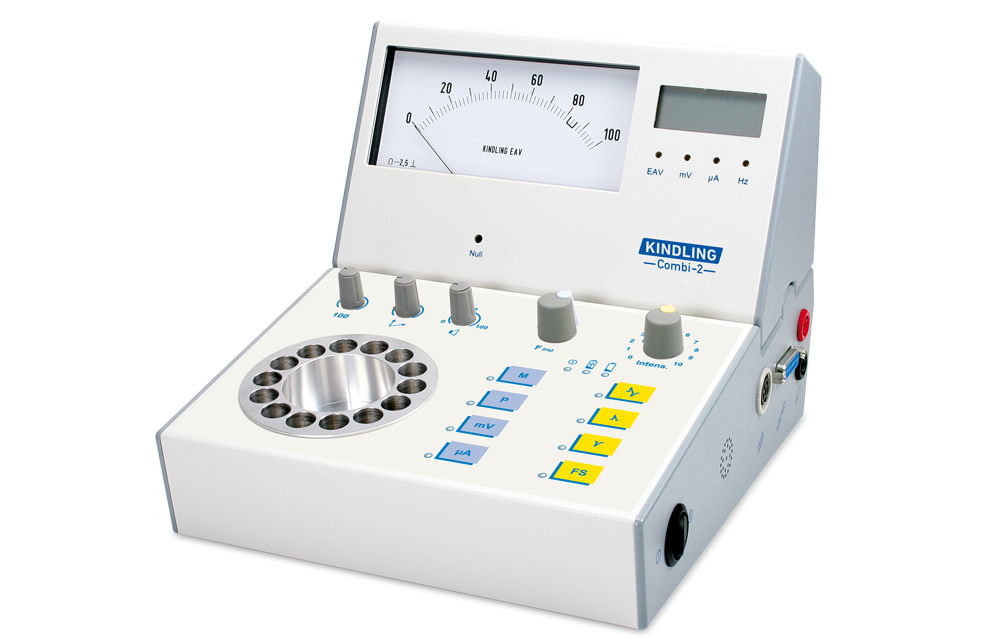 ---
Applications:
Measurements according to the standards of EAV (electroacupuncture according to Dr. Voll)
Means testing: Testing of products, incompatibilities, site loads, materials, etc.
Stimulation: Fixed frequency (0.1–19.9 Hz) and frequency range (1–10.0 Hz)
Pulse forms: Sedating, toning, tilt vibration
Dental potential measurement and comfortable dental irritation test
---
Combi-2 features:
EAV measuring system according to official standards of the IMGEAV (International Medical Society for Electroacupuncture according to Voll)
Large removable indicator instrument for individual placement at the workplace
Digital display (LCD) shows indicator drop, frequency and dental potential
Ergonomically shaped point probe with spring-loaded, pressure-compensated and replaceable measuring tip
"OPTO-Point" optical indicator device with individual skin moisture compensation
Spread of the scale (TP controller)
Acoustic measurement support through adjustable tone
Sound insert circuit – regulates the use of the accompanying tone signal
Large, integrated test honeycomb
Modern membrane keypad
Built-in, high-performance, rechargeable battery for 25 hours of full operation – optional mains operation with medical power pack
PC connection for working with the Homopath® software
---
Special supplementary options: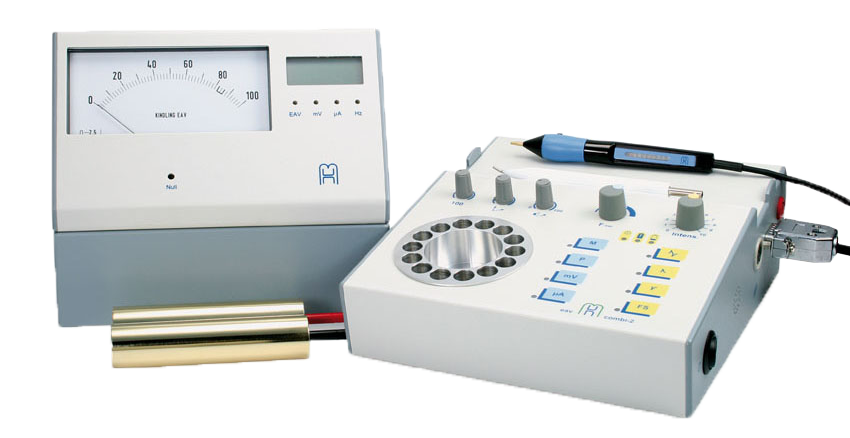 ---
2 hand electrods, brass
2 measuring wires for hand electrode (red, black)
Stylus
4 slot measuring tips
Ball measuring tip
Honeycomp Ø 8 cm - integrated in the device
Dental-potential electrode
Automatic-charger or medical power supply
Operating instructions
With these standard accessories, the unit is ready for immediate use.
Dimensions: 21 x 23 x 18 cm (W x H xD)
Weight: approx. 1,700 g
---
Possible combinations