Curator professional
Software-controlled proton resonance device |
The Curator professional is the original device for proton resonance application.
Treatments can be specifically supported with the Curator professional and its software. The technology for the simultaneous control of up to 3 surface applicators and one point applicator is available in a modern console housing with applicator storage area.
It is controlled by software that transmits precise signals to the Curator via the PC. This provides a wide range of indications that modulate the light from the LEDs either strongly or finely. In addition to these more than 190 tried and tested programmes, individual control of the system is also possible. It is also possible to use your own homoeopathic remedies.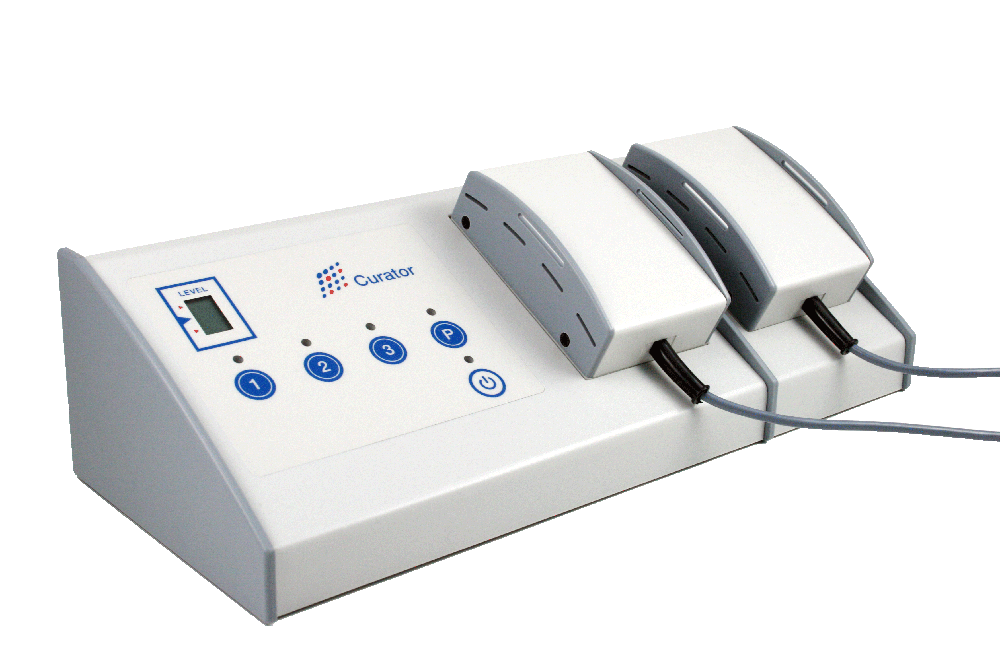 ---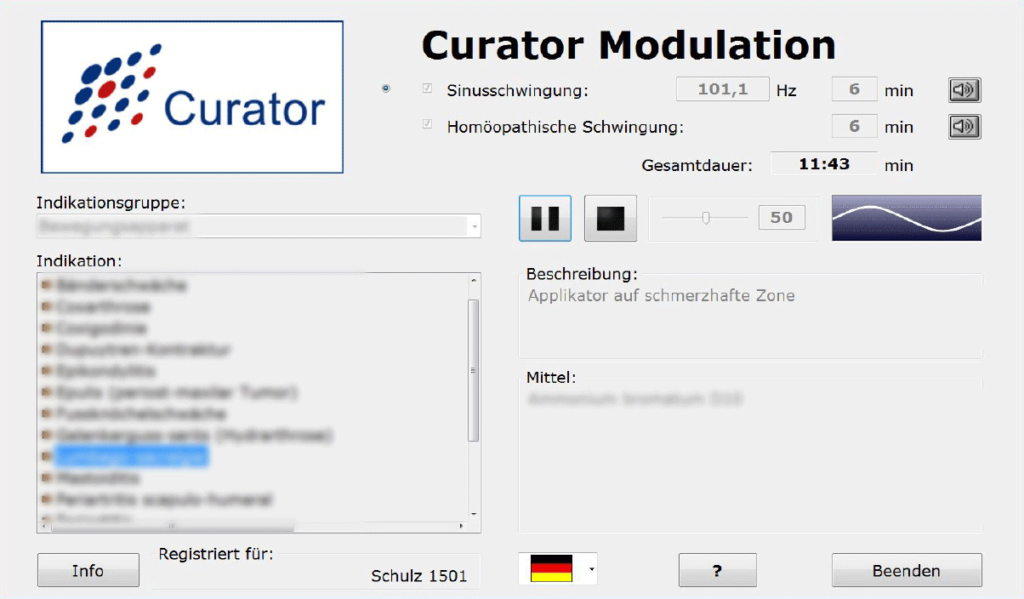 Targeted applications for use in the practice
• Can be delegated
• 45mm x 65mm applicator area
• 112 LEDs (24 red, 88 infrared) or (24 blue, 88 infrared)
• Connection for 3 area applicators and one point applicator
• Fixed frequency is set by the software depending on the indication (manual changes possible)
• Frequencies also manually adjustable
• 190 tried and tested application programmes
• Transition from homoeopathic remedies
• Adjustable treatment time from 1 – 20 minutes
• Control system for the function of the infrared LEDs
• Long service life of the light emitting diodes
• 100 – 240V mains adapter
---
Scope of delivery
1 Curator professional with integrated power supply
1 Applicator optionally infrared/red or infrared/blue
1 Fixing tape
1 Software
1 Connection line to the PC
Protective sheets
1 Operating instructions
---
Expandable with:
Infrared/blue applicator
• Infrared/red applicator
• Point applicator
• Input beaker for the application of homeopathics
• Maxi applicator
---
Comparison table
Curator home

Curator professional

Active area
45mm x 65mm
45mm x 65mm
Number of diodes
58
112
Applicator connections
1 area applicator
3 area applicators
1 point applicator
... can be used at the same time
1
4
Included in delivery
area applicators
1
1
Additional accessories
–––
available
Duration of treatment
Manual (max. 20 Min)
Settable (1 - 20 Min.)
Modulation
Fixed frequency
Broad indication spectrum is modulated accordingly, either strongly or finely.

Software contains 190 tried and tested programmes Individual control of the system possible.

Own frequencies as well as the application duration can be entered manually.
Netbook with modulation software installed
–––
available